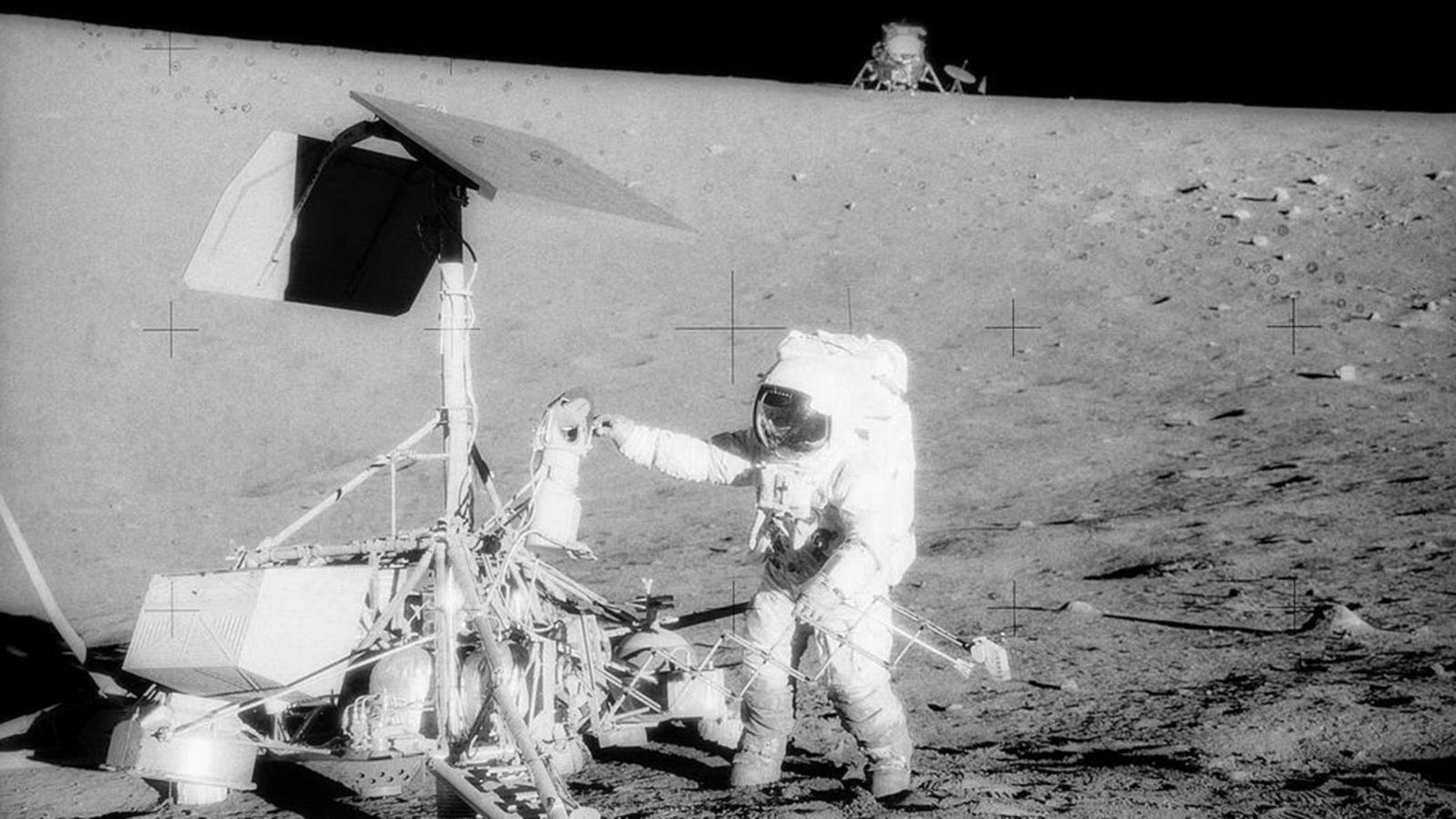 Apollo 12 astronaut Alan Bean inspects Surveyor 3
NASA.gov
This week marks the 50th anniversary of the second landing on the moon. Apollo 12 followed in the footsteps of the groundbreaking Apollo 11 mission, and its legacy includes a special connection with the University of Arizona.
Apollo 12 launched from Florida Nov. 14, 1969. The team, which followed up Apollo 11's historic moon landing four months earlier, became the first to blast its way through a thunderstorm and experience a spacecraft struck by lightning.
Mission commander Pete Conrad joked about Apollo 12 needing more "all-weather testing," but the crew overcame a brief power outage and continued on their task: to make a pinpoint landing within walking distance of another man-made lunar visitor, the unmanned Surveyor 3.
"The Surveyor was our first moon-landing spacecraft," recalled UA astronomer Jim Scotti. "Before Surveyor, some people thought the moon was made up of very light fluffy dust and you would sink in and disappear."
Scotti's colleague and renowned UA lunar scientist Ewen Whitaker studied pictures sent back from a previous Surveyor lander. Whitaker clashed with NASA on where the spacecraft had landed, and eventually convinced the space agency to accept his calculations. Now, NASA asked Whitaker to help with Apollo 12's ambitious goal. All the space agency knew was Surveyor 3 had landed in a crater.
"He went to work to figure out which crater of all the craters on the moon in the area that they thought it had landed was the one it was actually in," said Scotti. "And I'm sure when Apollo 12 was landing on the moon, Ewen was probably holding his breath, and crossing his fingers."
Mission commander Pete Conrad and lunar module pilot Alan Bean successfully landed within 600 feet of the Surveyor spacecraft. And moments after Conrad became the third man to walk on the moon, he saw the mission's goal literally within reach.
The astronauts detached Surveyor's camera and other parts and brought them back to Earth. Scientists studied what happened to material in long-term exposure to the lunar environment.
Years after the Apollo 12 triumph, astronaut Bean became an artist. His paintings depicting the lunar surface from an explorer's point of view earned him a new kind of recognition.
Bean's creative talent eventually brought him to Tucson, and a meeting with Whitaker, the university astronomer who helped guide his path to the moon. Scotti accompanied Whitaker when the two finally met.
"It was fun to be standing over his shoulder, watching the two of them interact," noted Scotti. "They were like old friends who had met years before. They had the same kind of happy approach to talking to each other, and it was like they'd known each other for years."
Ewen Whitaker died in Tucson in 2016. Bean passed away two years later at the age of 86. The fourth man to walk on the moon was the longest surviving member of the Apollo 12 crew.