Listen to an extended version of the interview:
Drs. Paul and Suzanne Fish are partners in life and fellow archaeologists who are retiring after more than 90 years of combined service at the Arizona State Museum and the UA's School of Anthropology.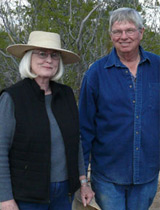 Dr. Paul R. Fish and Dr. Suzanne K. Fish, both curators of archaeology at the Arizona State Museum and professors of anthropology at the UA. (PHOTO: Courtesy Arizona State Museum)
Paul was hired by the museum in 1980 and Suzy joined him later.
Together, they have conducted research about the ancient Hohokam civilizations in Arizona and Mexico.
The Fishes focused on topics, such as settlement patterns, ethnobotany and societal organizations of the Hohokam.
"They're ancestral to people who still live here today, to Native Americans who live in Southern Arizona. They are a fascinating people, they were farmers for 4,000 years and big time irrigators near Phoenix," Suzy said.
"They have many accomplishments that we can learn from and the evidence of their occupation is all around us," she added.
In addition to providing insight about the Hohokam, the Fishes also recently contributed a chapter about agaves for a new book, "New Lives for Ancient and Extinct Crops," and for many years, they served as mentors to many students who were inspired by their accomplishments.
"It's been a great experience," Paul said while reflecting about the past few decades in Southern Arizona.
"We've gotten to do research that we've never would have been able to do elsewhere and teach students who were world-class scholars," he added.
During their research and work at the UA and beyond, the busy couple also explored other countries.
With more time on their hands now, Paul and Suzy said they plan to continue their studies and write up the research they have already conducted.

Still, the couple won't be staying away from the classroom.
"We would miss terribly working with students here at the university so fortunately we're still engaged with them and hope we will be for another several years at least," Suzy said.
"That's sort of how you stay young and engaged with new ideas."